One main office is in Lutz, just north of Tampa. The majority of our cases occur in our main office, where we also maintain our instruments for our numerous trips to provide vasectomies in other locations.
The address is:
288 Crystal Grove Blvd
Lutz, Florida 33548
The phone number is:
813-536-1430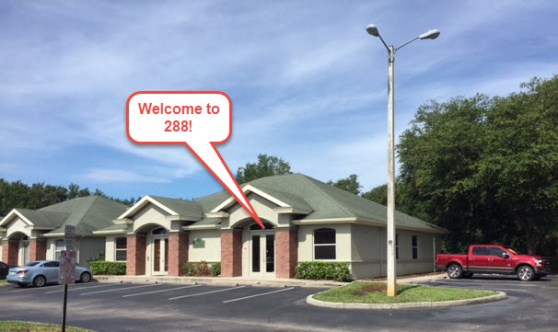 Cost for Vasectomy in Tampa/Lutz
The total fee for the vasectomy procedure and follow-up semen checks is $590. Insurance often covers vasectomy or provides the benefit of a reduced contracted rate for those who have not met their deductibles (See our Payment Options page to read more about this.) A deposit of $100 is required to be scheduled. The deposit is fully refundable until 7 calendar days prior to the appointed vasectomy date, non-refundable thereafter for either cancellation or postponement. The deposit can be paid by providing a VISA/MasterCard number during the online registration or by phone at 813-536-1430. The balance of the fee ($490) is due on the day of the vasectomy, payable by cash or check or credit card (note that credits cards are accepted only at this main office, but not on the day of the procedure in the other offices). If your vasectomy is covered by an insurance company with which Drs. Stein and Curington are contracted providers, your deposit will be returned to you when we are paid by your insurance company. Itemized and properly coded receipts are provided, and these may be submitted to other insurance companies in an attempt to get reimbursement or credit toward your deductible.
Financial Aid
Most health insurance plans cover vasectomy. If you have insurance and you would like to know if vasectomy is covered under your plan, please follow the instructions on our Payment Options page. For questions about Medicaid, please click here.
If you have no health insurance and your income is low, you may qualify for financial aid under Title 10 from the Hillsborough County Health Department or from surrounding counties.
Scheduling a Vasectomy in Tampa/Lutz
To schedule a vasectomy in our main office, follow these simple steps:
– watch the counseling video
– review the "about vasectomy" page
– consider payment options
– review the schedule for potential times
– complete the online registration, indicating Lutz as your desired location
When our staff detects your registration in our secure holding area, we will call you to arrange a specific time on your chosen date. So only one visit is required, but you will have our office and cell phone numbers so that you can always reach us if you have questions after your procedure. You will also be given a "take home" bag with instructions, so that you can bring by or send a semen sample to our Tampa/Lutz office 12 weeks after your vasectomy to be sure that your semen is sperm-free.
When you arrive at the Tampa/Lutz location on the day of your procedure, you will be asked to provide demographic and health history information as you would at any doctor's office. It is much more convenient to register online before your visit. The benefits are numerous and listed in our On-line Registration Page.
Directions to the Vasectomy Clinic in Lutz
The address is:
Vasectomy & Reversal Centers of Florida
288 Crystal Grove Blvd.
Lutz, Florida 33548
Our home office is in an office park in Lutz, just west of the intersection of US-41 and Crystal Grove Boulevard (which is Sunset Lane to the east of US-41).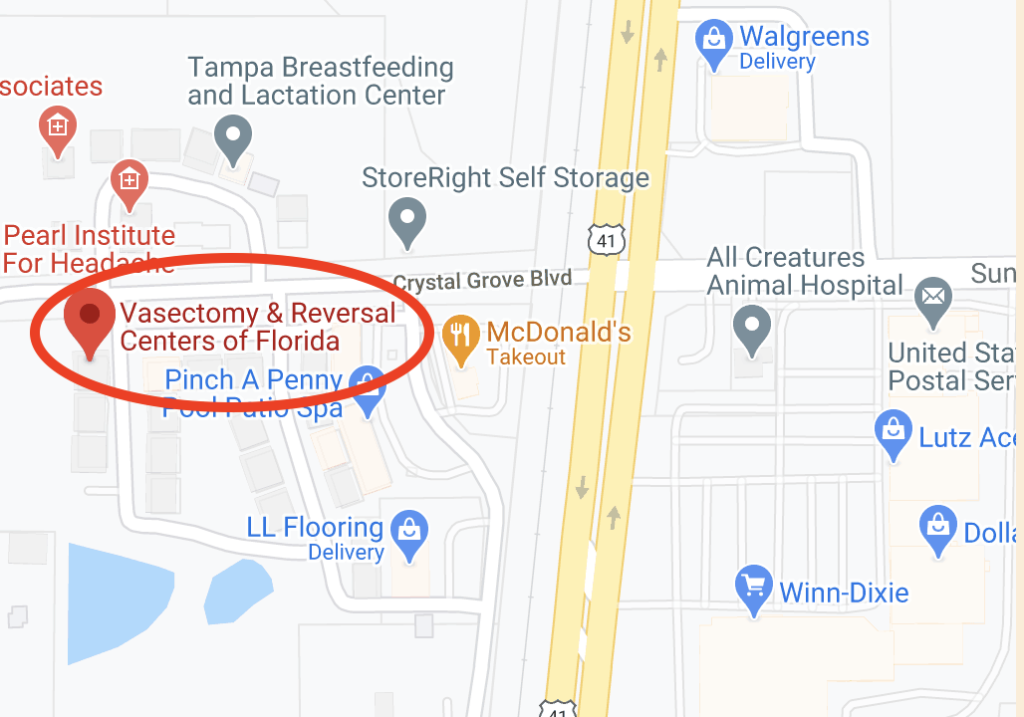 As you turn onto Crystal Grove Boulevard and head west, our office is in the office complex on the left.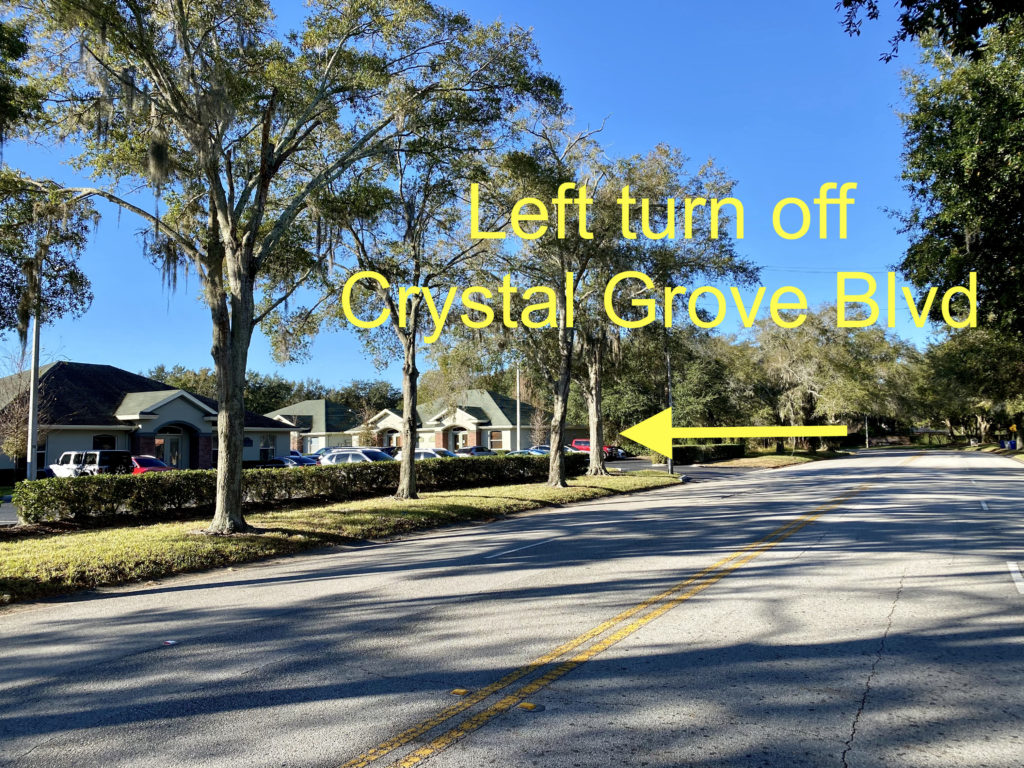 When you enter the parking lot, our office is #288. This is the most northwest of any of the offices in the complex.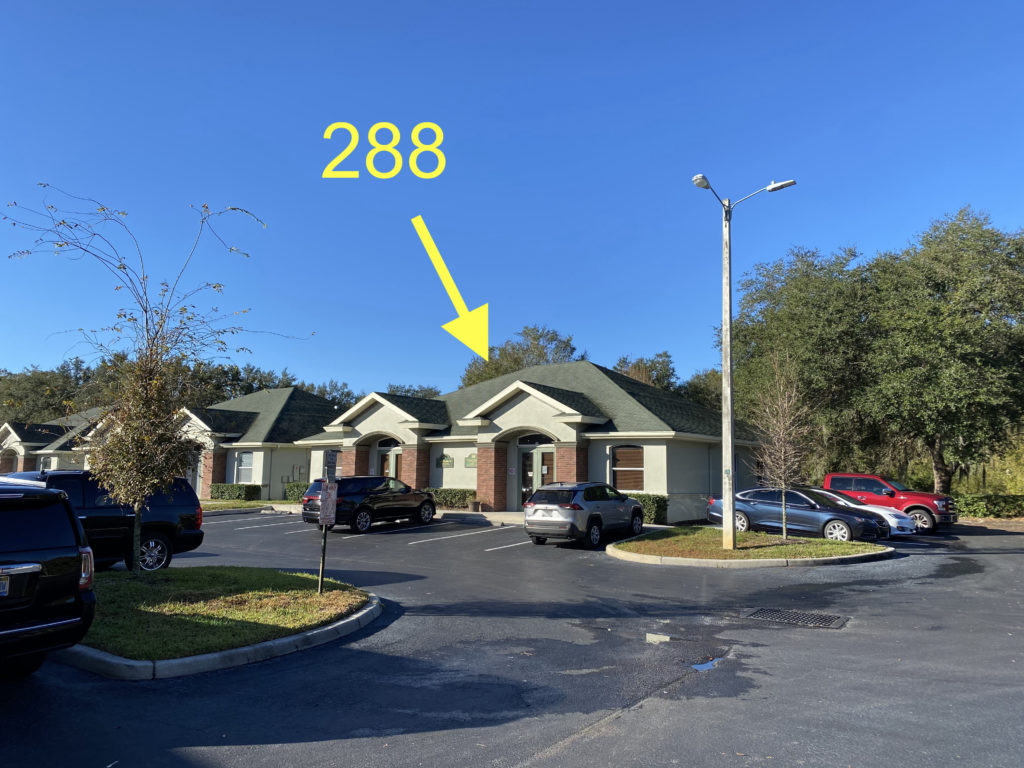 Look for the sign that says "Vasectomy and Reversal Centers of Florida"
Click on the map below for directions from Google Maps.